Keep The Fun In The Sun Going With These Summer Salads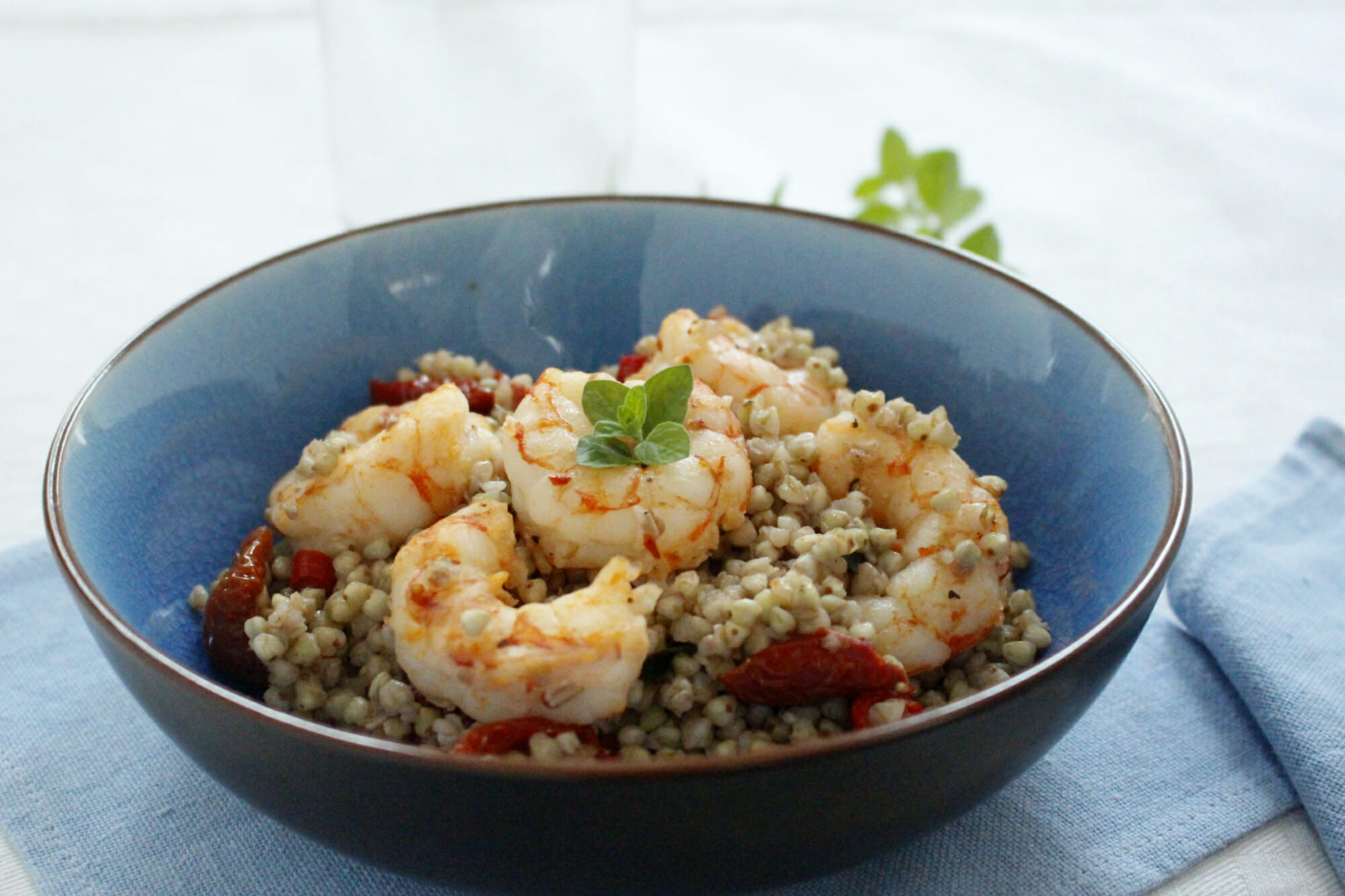 We are halfway through summer – eek! – But that doesn't mean we need to quit on our summer body eating habits. So how do we keep our food as fun as our summer? The Mamma Mia! Diet brings the health benefits of a Mediterranean-style program with Italian flair and flavor that will keep you from being bored while you try to maintain that beach bod.
Here are a few summer salad recipes for you to try straight from The Mamma Mia! Diet book: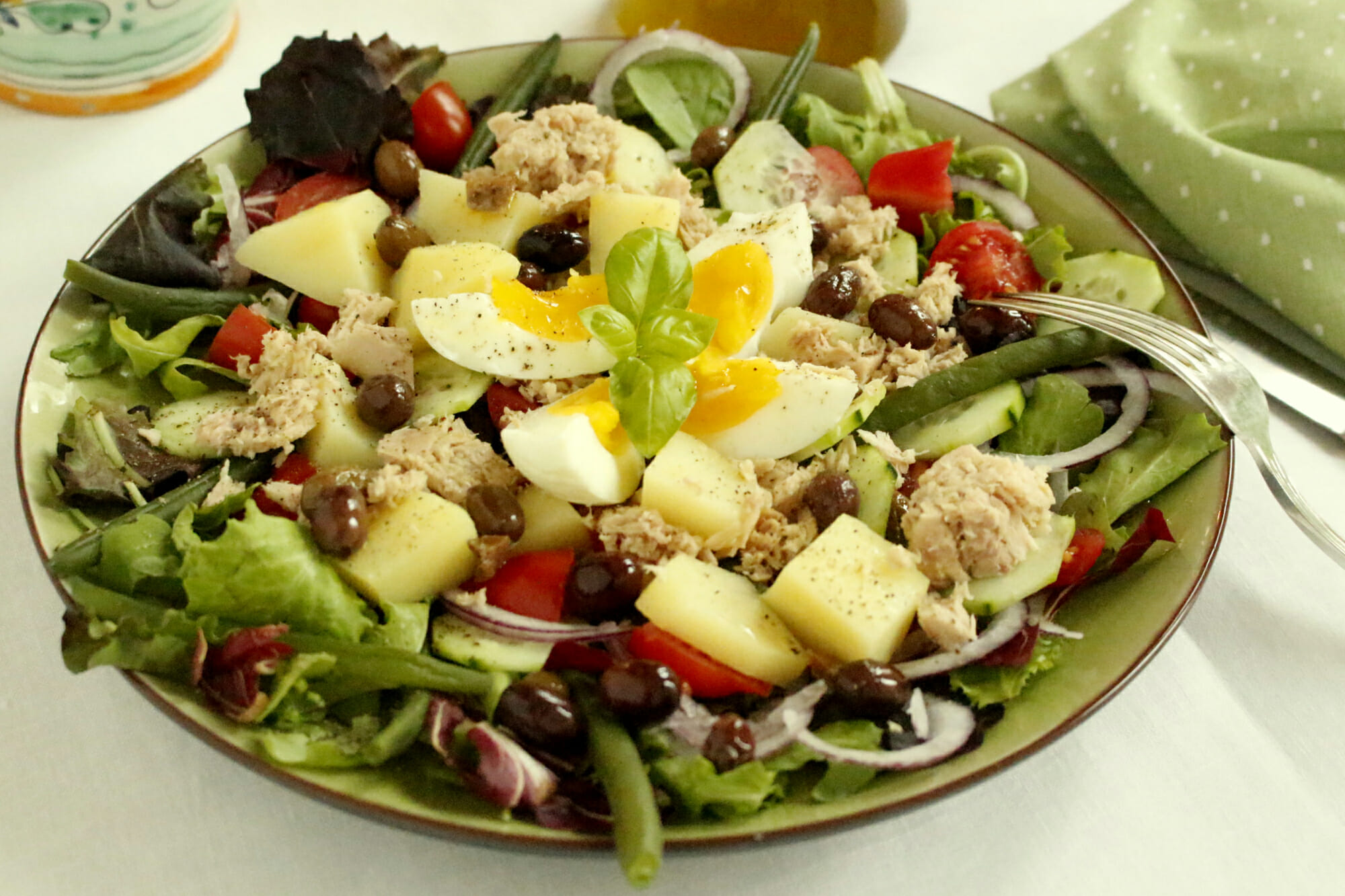 Recipe #1: Mediterranean Summer Salad
Ingredients
Mixed lettuce for decoration
4 medium potatoes
330 g (12 oz) green beans, cleaned (ends removed)
330 g (12 oz) cherry tomatoes
1 cucumber, peeled and sliced
1 red onion, peeled and sliced into thin rings
4 hard-boiled eggs
250 g (9 oz) canned tuna, drained
4 anchovy fillets in oil, cut into 4-5 pieces
Pitted olives (to taste)
4 tablespoons extra virgin olive oil
Salt and freshly ground pepper
4-5 basil leaves
Directions
Wash the lettuce and the tomatoes. Dry and set aside. In a large pan over medium heat, boil the whole potatoes for about 20-25 minutes. They should be tender but not crumble. Drain and allow to cool. Peel and cut each potato into 10-12 pieces. Meanwhile, blanch the green beans in water or steam for 6-7 minutes. They should be crispy. Cook the eggs in a saucepan covered with water for about 8 minutes (counting the minutes as the water begins to boil). Drain and place in cold water to cool them. Remove the shell and let cool completely. Cut each into 4 wedges. You can prepare four individual plates or one large salad to serve at the table. Arrange the lettuce on the plate, then add the green beans, the cherry tomatoes (cut in half), onions, cucumbers, potatoes, eggs, tuna, anchovies, and olives. Season with olive oil, a pinch of salt (optional) and pepper. Serve immediately.
Note: You can replace the green beans with fresh broad beans just blanched in water and, if you wish, also add some green peppers.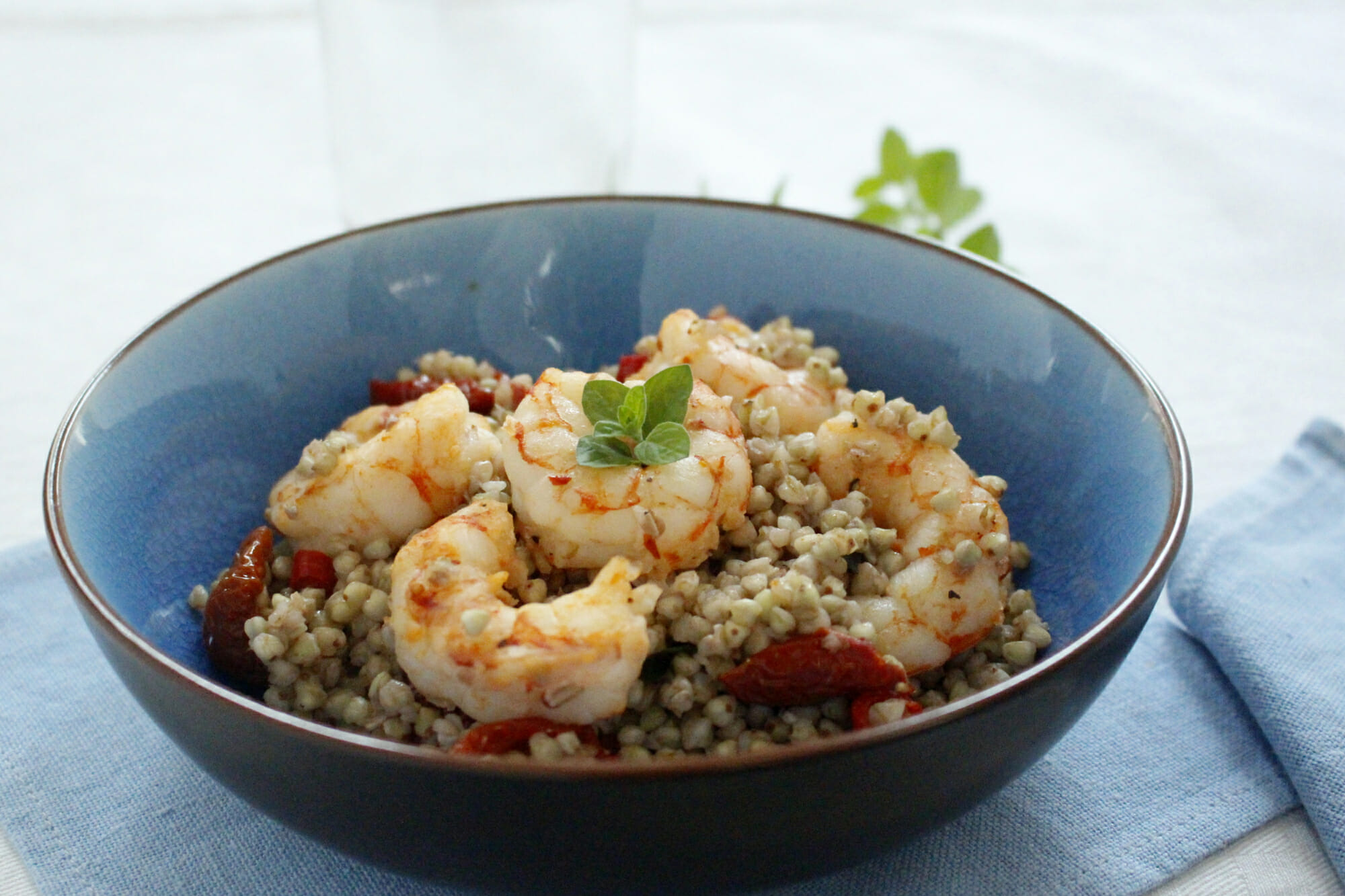 Recipe #2: Buckwheat Salad with Prawns
Ingredients
300 g (11 oz) buckwheat
20 prawns, cleaned, washed and dried
4 tablespoons extra virgin olive oil
2-3 garlic cloves
1 hot chili pepper, finely sliced
2-3 tablespoons dry white wine
20-22 semi-dried tomatoes in olive oil
10 leaves of fresh marjoram
Sea salt and freshly ground pepper (optional)
Directions
In a bowl marinate the prawns with 2 tablespoons of olive oil and chili for about 30 minutes, covering with plastic wrap. Rinse the buckwheat under cold running water. Bring to boil 1 liter (1 quart) of salted water (about 5 g, 1 teaspoon salt), add the buckwheat, reduce heat and cook covered for about 15-20 minutes (according to the instructions on the package). It must be "al dente." While the buckwheat is cooking, in a nonstick pan sautè the garlic in 2 tablespoons of oil over medium heat for 4 minutes, stirring frequently. Remove the garlic. Add the prawns, wine and cook for about 3-4 minutes over medium heat. They have to become pinkish but not overcooked. Remove from the heat. In a large bowl, add the tomatoes, removing much of the oil. Drain the buckwheat and mix it with tomatoes. Add the prawns' sauce and garnish with marjoram leaves and pepper.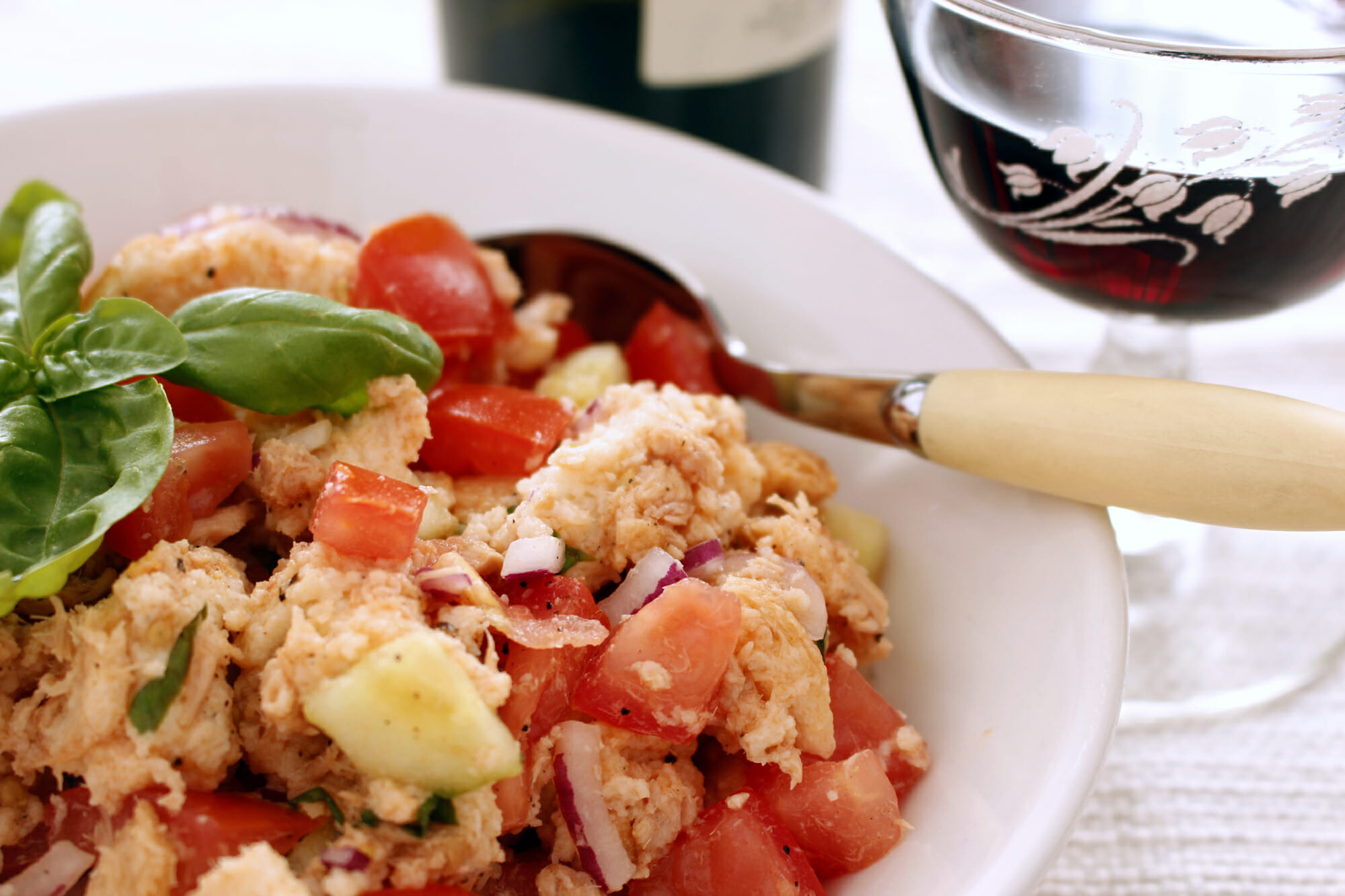 Recipe #3: Panzanella (Tuscan Bread and Tomato Salad)
Ingredients
200 g (7 oz) Tuscan bread, or whole grain bread cut into small pieces
3 Romano tomatoes, cut into cubes
2 cucumbers, peeled and cut into small pieces
1 red onion, finely sliced
120 g (4 oz) canned tuna in olive oil
2 tablespoon white wine vinegar
2 tablespoon water
12 fresh basil leaves
Salt and freshly ground pepper
Directions
In a big bowl place the tomatoes, cucumbers, onion and season with salt and pepper. Add bread, vinegar, and water. Toss all the ingredients together. The bread should be wet but not soggy. Break it up with a fork. Add tuna and mix well. Taste and add more salt, pepper, and vinegar, if necessary. Tear in basil and refrigerate for 1 hour. Serve cold.
Note: Since the recipe calls for tuna canned in olive oil, no other oil is needed. If you use tuna canned in water, it is recommended to add 2-3 tablespoons of extra-virgin olive oil. You can substitute Tuscan bread with other hearty Italian bread options, such as a Pugliese loaf.
YUM!