I Got A Cryo Facial And It Left Me With Tighter, More Radiant Skin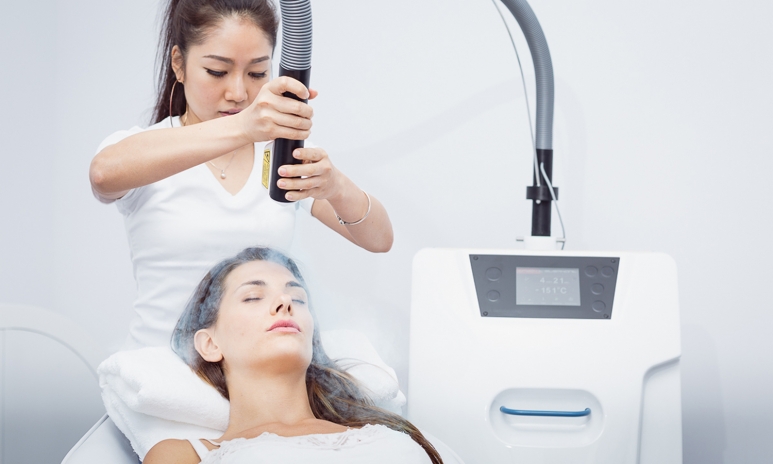 Lately, Cryotherapy is trending, and I get the chills just thinking about it. I am not a fan of being cold, but it has been proven that the benefits far outweigh the intimidating fact that you will be submerged for 3 minutes in freezing cold temperatures.
While I have been hesitant to try a full body cryo session, I will almost never turn down a reputable facial.  I had heard a lot about the Cryo Facial treatment, which claims to tighten your skin and give you an overall more youthful appearance. Anything that pushes out my botox appointment an extra few weeks is good in my books!
Let's start with a little background on my face. I have combination skin that behaves itself about 2/3 of any given month. The texture of my skin is always fluctuating and it drives me crazy. My biggest problem is inflammation. I get puffy no matter what I do! Several people recommended that I try out a Cryo Facial, assuring me that it will help me with fine lines, blemishes, pore size, and more importantly to me, bloating in the eyes, neck, cheeks, and chin.
I booked my facial at this impressive cryo spa on 5th Ave and met with Arty, owner of CryoEmpire, the day of my appointment. He walked me through the treatment before and during the facial. His skin, by the way, was perfect. He swears by his own treatments – and for a good reason. THIS FACIAL WORKED WONDERS ON MY SKIN!
If you're not familiar with what a Cryo Facial is, it's pretty much liquid nitrogen that is pumped out all over your face, at minus 180°c, to help build collagen and promote lymphatic drainage. It is used by everyone from models to medical professionals and all of the in-between for beauty and healing. It is the most natural facial treatment to exist currently. More importantly, I'll emphasize again, the results are incredible.
After just one 10 minute treatment, my chin and neck look tighter, my cheeks are more contoured, and my fine lines, (that were starting to come back as a result of my botox wearing off), have significantly softened. It wasn't unbearably cold, contrary to popular assumptions, but rather relaxing and refreshing. It was quick and easy – and there was no downtime!
Many people also use Cryo Facial therapy to treat psoriasis, acne, eczema, build collagen, and improve overall circulation. 
The Verdict / My Recommendation: GET A CRYO FACIAL! (I've already set my next appointment!)