Sweeten Up Your Summer With These Fun & Fresh Recipes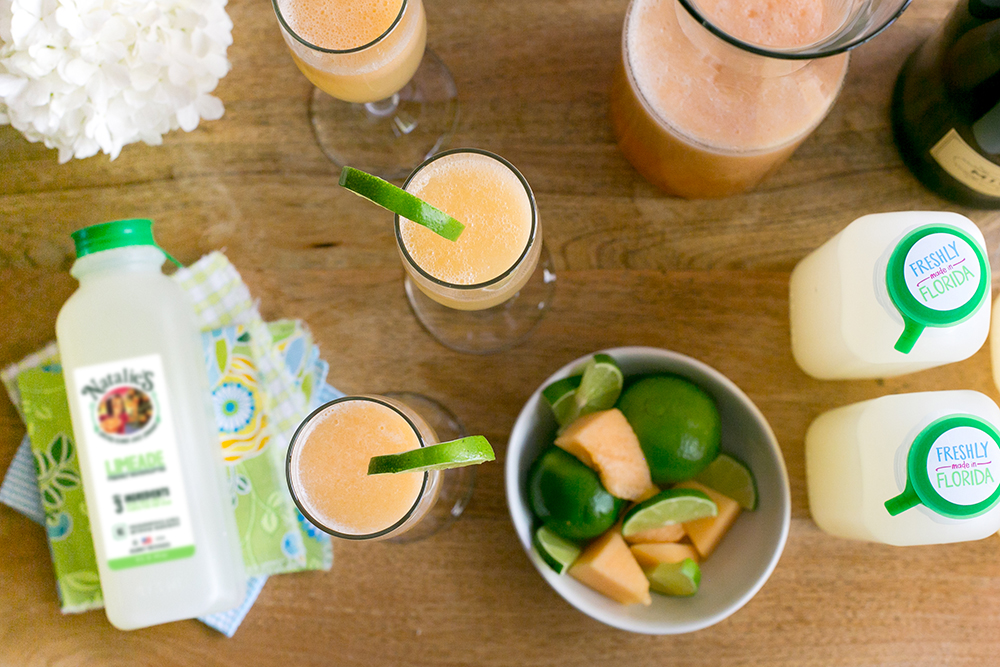 Some of the best food comes from the summer season! The warm weather gives us even more of a reason to spend time constructing yummy drinks and serving up some delicious food. We've got some quick and easy food and drinks to help you kick off your summer right.
Cantaloupe Limeade Mimosa
Ingredients
1 part cantaloupe puree
1 part Limeade
1 part Prosecco, or other sparkling white wine
Directions
In a flute, combine cantaloupe puree and Limeade.
Stir with a long spoon. Top with prosecco or the sparkling wine of your choice.
Credit: Natalie's Orchid Island Juice Company
Watermelon Matcha Margarita
Ingredients
1 oz. fresh lime juice
2.5 oz. watermelon juice
1.5 oz. Natalie's Matcha Lemonade
2 oz. silver tequila
1/2 oz. triple sec
Directions
In a shaker filled with ice, combine lime juice, watermelon juice, Natalie's Matcha Lemonade, tequila and triple sec.
Shake until well chilled.
Pour into chilled margarita glasses.
Credit: Natalie's Orchid Island Juice Company
Quick & Easy Fish Tacos
(Makes four servings of 2 tacos each)
Ingredients:
8 Flour Tortillas
8oz of Sour Cream
1 Cucumber cubed or julienned (about 1 cup worth)
1 Red Pepper cubed or thinly sliced
8 Fish Frozen Fish Fillets
1 tbsp Southwest Seasoning
1 tub Crumbled Feta Cheese
Cilantro to Garnish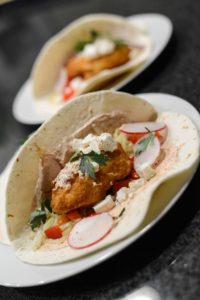 Directions:
Preheat the oven to the package directions for your frozen fish fillets. Prepare the cucumber and peppers. Create the sour cream sauce by mixing the sour cream with the southwest seasoning (you can add more if you want a stronger kick).
Bake your fish fillets according to package instructions. When finished, begin assembly.
To assemble your fish tacos, smear 1 tbsp on the sour cream mixture on the flour tortilla. Next, sprinkle the cucumber and peppers and then set the fish fillet on top of that. Spread or drizzle a bit more of the sour cream mixture on top of the fillet and then sprinkle with the crumbled feta. Garnish with cilantro and serve.
Credit: Christopher Mohs, recipe developer and Founding Editor of Pumpernickel&Rye
Citrus Sorbet
Ingredients
2 cups Fresh Squeezed Citrus Juice
Zest of one Citrus
1 1/4 cup Sugar
1 1/4 cup Water
Added Flavor Of Your Choice (Optional)
Directions
With a peeler, peel zest from one of your selected citrus (more for an extra kick if you like) In a small saucepan pour in the sugar and water and bring to a light boil over medium heat to make the simple syrup. A foam may develop on the top, boil until this disappears and then remove from heat. Add the citrus peel and any additional flavor additives and allow to steep for 5 minutes.
Squeeze out the juice of several citruses to yield 2 cups of juice. Strain through a mesh strainer (or leave all that glorious pulp in the mix if you'd like) and then strain your flavor-infused simple syrup into the juice. Cover with plastic wrap and place in the back of the refrigerator to chill for at least 4 hours and up to overnight.
To make the sorbet, pour your juice mixture into an ice cream maker and churn until it gets to a soft-serve consistency. Then scoop out into 2-pint size containers and place in the freezer for 12 hours to fully set.
Credit: Christopher Mohs, recipe developer and Founding Editor of Pumpernickel&Rye