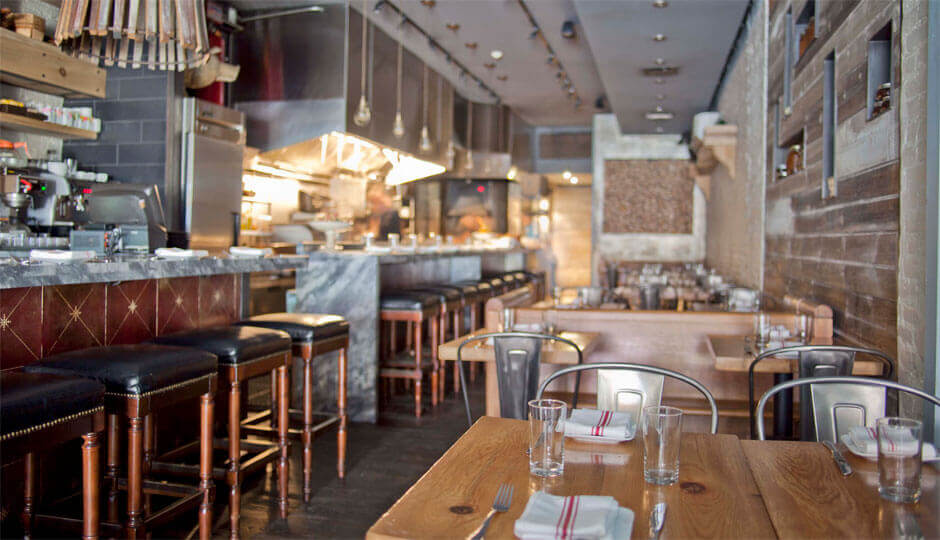 *Cover Photo Provider by Philadelphia Magazine 
While many spend their time arguing about Pat's or Geno's being the best steak spot, we've discovered that the City of Brotherly Love offers more than just mouth-watering Cheesesteaks to its city folk. Philadelphia is home to some of the best cuisine in the Northeast. Not only do they have a knack for delighting your taste buds, but their restaurants are equally as satisfying to the eye.
These eateries we've found allow for an all-around sexy experience. Whether you're looking for a top-notch, first-class dining experience or just a cozy Irish pub to drink the night away in, Philly provides a plethora of options to choose from.
Barbuzzo
Barbuzzo located on South Street is a perfect blend of artisan dishes and designs. The menu, made up of Mediterranean twists and refined ingredients, includes an at home comfort food type of feeling. The plating of the food greatly compliments the rustic, farmhouse feel of the restaurant.
Amada

Tucked away on Chestnut Street is one of our editor's all time favorites. Amada takes on Tapas in a deceptively simple way. Iron Chef, Jose Garces, revives the rich flavors of tradtional Spanish Tapas by complimenting each dish with its lavish, house made Sangria. Meticulously plated, each tasting plate creates an explosion of  full-bodied flavor for your taste buds. Not only is the food exquiste, but Amada's scheme is eleganace at it's finest. The exterior will transport you to a small alley way in Spain, while its interior highlights the finer details of design.
White Dog Cafe
A room for everyone. White Dog Cafe, located in University City, is an Instagrammer's dream come true. Made up of several brownstones, each dining room has its own theme which is sure to leave a lasting impression. As unique as each dining space is, they are tied together harmoniously through a decadent menu that will take your palette on a journey consumed by indulgent culinary masterpieces.
Little Spoon Cafe
Our favorite breakfast spot in Philadelphia is the Little Spoon Cafe. Although small, they pack a giant punch of flavor into each plate. The Monte Crisco with Jalapeno aioli is nothing short of brilliant. Your cold brew is delivered in a small mason jar, adding to the flare this corner storefront shares with the town. An eccentric array of decor establishes the fun, light-hearted feel in the cafe.
Talula's Garden
Greenery and rope lights set the mood for the Garden in the City. Talula's Garden is home to farm fresh cuisine and one of the most inviting restaurants in Philadelphia. Whether you're joining the crowd for a few drinks or sitting down for the full experience soup to nuts (literally), this light fare will elate your cravings in the most refreshing way.
The Twisted Tail
Southern comes home to Philadephia. If you're looking to get your fixin' of bourbon and fried chicken, this is your down-home, soul food spot. From harpoon-caught swordfish and flights of whiskey, the Twisted Tail creates a warmth that calls your name on a bitter winter night, down on South Street. The elementary decor compliments the bold flavoring in every sumptuous meal. Enjoy your libations in front of a cozy brick fireplace as you sink into the vintage leather couches.
Philadephia not only feeds our wanderlust but our appetites too!
#InsideBeautyEats
*All photos are accredited to each restaurant's website and/or have been provided by the editors of Inside Beauty.