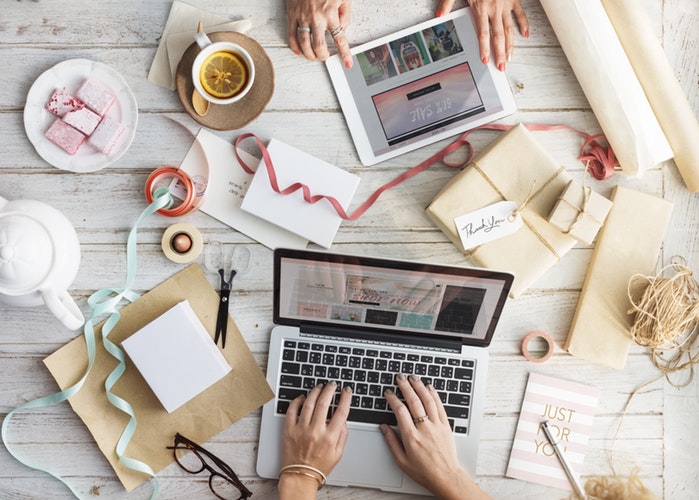 With winter in full effect, not many of us are willing to brave the cold to find new boutiques in order to get in our shopping fix. Online shopping is convenient- and, of course, we're all guilty of indulging- but everyone can agree there's something those big time, online stores lack in comparison to the charming boutiques in the middle of the city.
We were determined to find the best of both worlds; and the best of the best, at that. So without further ado, here are our top 8 favorite online boutiques!
Hello Honey
Based out of Queen Creek Arizona, Hello Honey Boutique has everyone covered; from the littlest fashionistas to the corporate queens, and everything in between! They house a cozy yet classic selection of sweaters and swing dresses that every woman longs for.  With moderate prices and constant sales, Hello Honey is a must-stop-shop if you find yourself in the southwest, but ready to ship to anywhere in the United States!
Meraki Moon
Denver, Colorado is home to the boutique that is becoming a fan favorite all over Instagram. Meraki Moon's store is filled with bold prints and maxi dresses that are sure to catch some looks of envy. With many of their pieces being so versatile, you'll be able to wear your favorite ensemble throughout the seasons.   
Clad & Cloth
This online boutique is taking the internet by storm. They have an impressive 138k followers on Instagram- and it's easy to see why. Clad & Cloth presents you with everything you need to build a wardrobe that has a flawless balance of delicate and dauntless. Start your spring shopping early or add to your repertoire of winter coats; they've got it all!
Shop Maxwell Online 
Solely online, delivering a bold and beautiful range of options, Shop Maxwell online has us obsessing over their pastel palette. One of their best-loved items is the Fran Wrap Booties ($72)- to die for! They come in light grey, but you're going to need them in every shade on the color wheel. Maxwell's whimsical array of attire always keeps us coming back for more.
Paige Avenue
 More than just clothing, Paige Avenue offers a custom brand of makeup which showcases a color match technology along with How-To videos. Your one-stop shop for that new weekend look also provides an assortment of outwear from heavy coats to light spring jackets. Need a few tips on the best way to wear your newly purchased apparel or color-matched palette? Check out the Paige Avenue Blog!
   Shop Stevie
Stevie Hender does it all- most importantly, by bringing you the most desired fashion trends. Her brand & designs have grown to a worldwide platform and influencers everywhere are jumping at the chance to become a rep! Her shop's theme has a feminine flare complete with flower patterned maxi dresses and timeless formal wear. Stevie has also introduced her line for those little Stevie lovers, and it's so adorable we can barely hand it.
12th Tribe
Flirty yet fierce, 12th Tribe will inspire your inner Boho Princess and rockstar at the same time. Their warm colored tie up shirts and fringed jackets are on our must-have list, and they should be on yours too. Prone to two-piece sets? They've got you totally covered. Keep an eye out for their killer sales- their supply flies off the shelves. 12the Tribe is bold, fresh and in your face fantastic; could you really ask for anything more?
Morning Lavender
If Jackie O. was still here, we're pretty sure all of her statements pieces would be coming right from here. Morning Lavender is as alluring as it sounds. They're stocked with everything you'll need from garden to gala. 'The Classic Collection' is by far our favorite. The selection of gowns is awe-inspiring and undoubtedly red carpet worthy. This is effortless sophistication at its finest.
** All photos are curiosity of the online boutiques feature in this article**